Hello.
As you may have noticed, i am on an indie makeup adventure. Although
Fyrinnae
is not necessarily indie, they are still very unique. I am bummed i was kind of late in discovering this company, but excited to have done so and ordered. Perhaps their most amazing product yet is their coveted Pixie Epoxy, as it is highly raved about and kinda hard to get a hold of (if you are familiar with their company)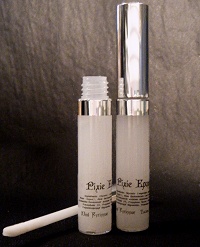 Here are the claims:
A must-have for shimmery, sparkling shadows! This is not an eye shadow primer, or really a base. It is to keep sparkles on or to make shimmery shadows appear "glossy": a foiled look without foiling.
Originally developed and formulated for a friend/pro artist in 2008, this unique "glue" is designed to hold the sparkliest, most shimmery eye shadows in place, minimize "fallout", and also to easily create a foiled look without foiling. Don't worry, it's easily washed off, and while keeps shadows in a water-resistant state, the product itself is water-soluble (no silicones or oils). Polymers give the stickiness, while glycerin and propylene glycol keep it wet and slick on skin long enough to apply & blend shadows.
Packaged in a lipgloss tube/doefoot wand (we found this was easiest for application and least messy), all you need is a tiny dab (we're not kidding, use the tiniest amount you can manage!) rubbed on with wand or fingertip over your usual primer. Wait several seconds, as the Epoxy should be tacky but not wet, and apply dry loose shadow with a brush. More Epoxy may be desired for very glittery products. This product also enables the shadow to be brushed on rather than patted. Fingertip shadow application does not work well with this product, and shadow is best applied dry. Wet application may work, but not with every shade/texture. Translucent in the tube, applies and dries completely clear. May make some shades appear darker, and doesn't work as well with mattes. To help prevent creasing under matte and shimmer shades, please use an actual shadow primer under this. Pixie Epoxy is safe to use under eyeliner, but not recommended for application directly on the waterline. Our customers use this under pressed eye shadow as well as loose.
Swatches over Pixie Epoxy
PE makes every thing appear foiled. and glittery pigments are gorgeous over this.
bad pic, but i used Nuke 'em high from Unique Pigments over PE and the already neon green shade just went louder.

As you may have read above, PE is not a primer, rather a foiling medium without having to get the brush wet. In my opinion, this lives up to its claims, pigment fallout is greatly minimized, granted you use it properly. One drawback (not for me thoug) is that you do use a lot more pigment than using primer alone, but it is definiltely worth it. At $7 a tube, this will last me for a long time, and also doubles as glitter glue, so yay. I highly recommend you try it, their shipping is not expenssive, and even though they announce shipping time is 26 days, the 3 times ive ordered i have received my stuff within a week!
Have you tried this? if so, what do you think? if not, hurry up and do so =)