Hello...
So i went to a 'swapmeet' or 'flea market' or Park n swap' here in town last wednesday and omg i was so happy i went. I t had been at least 5 years since i went, and eventhough i love flea markets and such, the heat here in AZ is unbearable, and having to take my 3 yr old makes it even worse lol. So i was shocked to see how all the cosmetic companies are selling their stuff there.......Avon, tons of Mary Kay reps and NYX! and the best part is that their cosmetics that are for sale are new, boxed and untouched, but at a low price. This retails for $10 and i got it for $5! such a deal for me and since i am still looking for a HG concealer, i immediately gave up my $5 for it!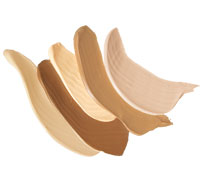 According to the packaging (but not on their site):
Waterproof
Dermatologist tested
Non-comedogenic
Fragance-free
Suitable for sensitive skin...including UDER EYE AREA
Long lasting, creamy, lightweight
I like this concealer because it doesnt really crease, its creamy, blends well and covers beautifully. The only issue is that i picked a shade a tad too yellow lol!