Hello!
I recently made my first tiny purchase from
fyrinnae
! This is one of those Indie makeup companies, although as stated on their webstite, they are NOT a mineral makeup company! I was drooling at all the gorgeous shadows/pigments they have. seriously i wanted one of each, but after reading that their primer is great for oily skin, i of course jumped right onto their site and ordered!
This is a Gel...no silicone feel at all! a tiny amount does it!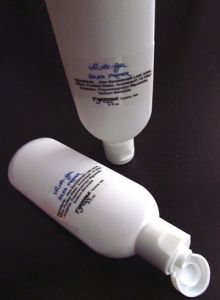 What the website mentions:
To apply, smooth on a very, very small (much less than pea-size) amount with fingertips after applying moisturizer (& sunscreen). If it feels tight or looks flaky/streaky when dry, too much was applied or it was not rubbed in well enough over a good moisturizer. Or, mix in a drop of water while applying. Can also be mixed with moisturizer and worn alone for a "soft focus" look.
Our Silica Gel Primer comes in a plastic bottle with flip-top cap, which contains 1 fl oz (prior to September 2010, the primer was .5oz in a jar at $5.50). Samples are tiny plastic jars with enough product for 3-5 applications.
Ingredients:
Aloe Barbadensis Leaf Juice, Silica (silicon dioxide), Purified Water, Acrylates/C-10 Alkyl Acrylates(this makes it into a gel - very,very small amount), Polyaminopropyl Biguanide, Sodium Benzoate
Sample i reveived with my order..it is a generous sample!
Swatch: its hard to take a picture because this color
is like a peachy/silvery champagne lol
using the pigment ONLY over UDPP! no other shadow at all
This is my face at around 11pm. no touch ups throughout the day. i
never touch up! this is the primer over mineral
foundation!
I have also read about this company along other indie companies while reading
Phyrra's
website. She is amazing and omg you can learn about the wonderful indie makeup world from her! she is honest, and can come across as 'blunt' but oh so very appreciated. anywho, i dint think i learned about this primer from her, rather, it was from one of the private groups i belong to. To read more about Fyrinnae and their awesome creators click
here
to go over to Phyrra's blog!
One of the downsides of liking and wanting ot order from fyriannae is that they often 'close' their website due to the heavy ordering that goes on, and as i read on their homepage, there are about 700 orders at a time and only 2 people making them and shipping them so wow!
Final thoughts: I love this! i want more as backups. i want to get all their pigments lol. I keep checking their website and it has been 'closed' for about 3 days. but i will order as soon as its up!